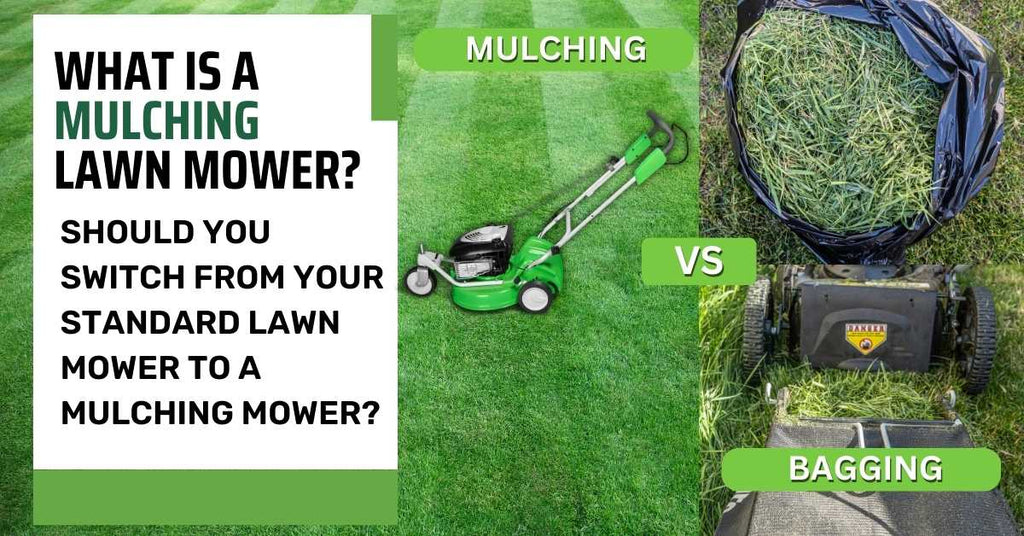 What is a mulching lawn mower?
Mulching lawn mowers, which are equipped with specially designed mulching blades, do a great job mowing your lawn. These mowers finely chop your grass blades, transforming your clippings into nutrient-rich mulch which is then seamlessly re-integrated into your lawn. Unlike traditional mowers with grass bags or discharge chutes, mulching mowers keep your lawn looking flawless. by continuously cutting and nourishing the grass. This mulching process not only saves you from the tedious task of collecting clippings but also enhances your lawn's health and appearance, making it greener and more vibrant! Whether you choose a gas, electric, riding, or push mower, the result is the same—lush, well-fed grass thanks to the mulching lawn mower.
1.
Guidelines
 when using a mulching lawn mower
Avoid Wet Conditions: Don't mow when the grass is wet. The added weight can lead to clumping and uneven cutting. 
Follow the One-Third Rule: Stick to the golden rule of mowing – never remove more than one-third of the grass blade's height in a single pass.
Mow at the Right Height: Different grass types thrive at specific heights. Consult local experts or resources to determine the ideal mowing height for your lawn.
Seasonal Adjustments: Consider adjusting your mowing height during extreme seasons. Go slightly taller during the hottest months and shorter for the first and last cuts of the season.
Choose the Right Mower: Ensure your mower has sufficient power for your lawn's density. Investing in a powerful mower pays off in the long run.
Sharp Blades Matter: Maintain a sharp mower blade to achieve a clean cut, preventing potential lawn diseases. Use suitable tools to sharpen the blade as needed.
2.
How does a mulching mower work?
Mulching mowers may appear similar to other mowers at first glance, but there's more to them than meets the eye. We'll walk you through the benefits and practicality of mulching mowers so you can take your lawn care to the next level!
Key Takeaways:
1. Mulching:



Mulching mowers use rotary blades that differ from conventional straight blades.
These specially designed blades direct clippings toward the mower's underside, where they undergo multiple cuts before returning to your lawn.
Some mulching blades feature curved, serrated, or combined designs for superior performance.
Conversion kits typically include a cover for the discharge opening, a critical component for efficient mulching.
2. The Science (and Engineering) Behind Mulching:
Mowing with a mulching mower involves cutting grass and finely chopping it into particles, which are then redistributed on the lawn.
The unique deck shape surrounding the blade, creates an air depression that lifts the grass for repeated, precise cuts.
These fine grass particles blend seamlessly into the lawn at the grassroots, providing essential nutrients and nourishing your lawn.
3. Grass Clippings as Nature's Fertilizer:
Mulching lawn mowers re-cycle by turning your grass clippings into a natural fertilizer.
Urban and suburban homeowners benefit from this direct composting method, eliminating the need for a compost pile.
Finely shredded clippings can be left on the lawn without contributing to thatch build-up.
Conversely, mowers without mulching capabilities produce bulkier clippings that should be removed to prevent suffocation of the grass.
4. Understanding Mulching Blades:
Mulching mowers create a unique, vacuum-like airflow that propels grass blades upwards before they are expertly cut.
You can use these blades for mulching, bagging, or side discharging, providing versatility in lawn maintenance.
5. Bonus Tip - Transforming Your Existing Mower:
Wondering if your current mower can join the mulching revolution? Yes, it can!
Contact your local lawn mower retailer or manufacturer to inquire about a conversion kit.
These kits may include a mulching plug to close the discharge or bag opening and a new blade.
Both push and riding lawn mowers can be adapted to recycle grass clippings, but mulching mower blades excel due to their ability to create smaller clippings that break down faster, enriching your lawn.
3.
What sets a mulching mower apart from a standard mower?
Standard Mower vs. Mulching Mower:
You still may be wondering how a mulching mower differs from your standard mower. Let's break it down:
🚜 Clipping Management: Standard mowers typically discharge clippings onto the lawn or collect them in a bag, requiring additional cleanup. Mulching mowers, on the other hand, finely chop and disperse clippings back into the turf, acting as a natural fertilizer.
⚙️ Blade Design: Mulching mowers feature specialized blades designed for effective mulching. Standard mowers have blades optimized for discharging or bagging grass clippings.
⏳ Time Efficiency: With a mulching mower, you save time by eliminating the need to stop and empty your grass bag or rake clippings. It's a more efficient way to mow your lawn.
🌿 Healthier Lawn: Mulching mowers actively enhance your lawn's health by providing valuable nutrients, while standard mowers may contribute to thatch buildup.
4.
Wrapping up
In this post we have covered exactly how mulching lawn mowers work. They help make the process of mowing your lawn smooth and easy, removing the need of bagging and disposal of grass clippings. Mulching caters to both novice and experienced gardeners, promising a more efficient and eco-friendly approach to lawn maintenance.
FAQs About Mulching Lawn Mowers
1. Do mulching mowers work on leaves and debris?
Yes, they can mulch leaves and small debris effectively.
2. Can I use a mulching mower on tall, overgrown grass?
It's best to mow regularly to ensure effective mulching. Tackle overgrown grass gradually.
3. Are mulching mowers suitable for all types of grass?
Mulching mowers work well with most grass types, but adjustments may be needed for certain varieties.
What is a mulching lawn mower?